Marconi Wireless Station Clifden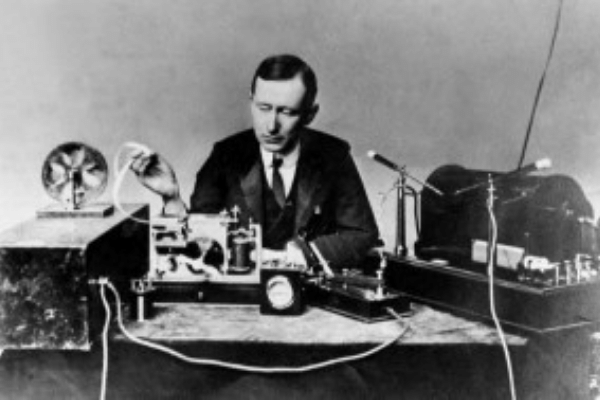 In 2021 I started walking tours around the Marconi Wireless station here in Clifden, and inspiration for this blog.
Inventor Guglielmo Marconi was the youngest son of Annie Jameson from Daphne Castle, Wexford. Annie was the youngest of five daughters to her parents Andrew and Margaret. Young Annie developed a passion for opera singing and travelled to Italy to study. While in Italy she married widower Giuseppe Marconi, a well known Italian aristocrat. They setup home in Villa Griffone, outside Bologna, where they had two sons Alfonso and Guglielmo who was born in 1874. When Guglielmo was two years old, till he was six Annie brought the brothers up in Bedford, England. The brothers with their Mother were regularly visitors in the summer time to Annie home in Daphne Castle.
Annie nurtured and encouraged the young Guglielmo interested in experiments in electromagnetism. Guglielmo had no formal training however his mother Annie gave him all the encouragement to do the experiments which he carried out in the attic of his home in Bologna. He was not suited to school life which they say is the characterised of a true genius. His mother got him a job as assistant to a neighbour who was a professor of electromagnetic at the University of Bologna.
Around the early 1890's Guglielmo began working on the idea of wireless telegraphy. When he was 21 years, Guglielmo made his first wireless transmission up to 3km from the garden of Villa Griffone and the other receiver was on the other side of a natural obstacle the Celestini Hill, which he could be clearly seen from the window of his laboratory. One of Guglielmo assistants shot of gun to confirm the reception of the signal demonstrated that system could work even in the presence of natural obstacles. The birth of radio happened in the summer of 1895.
Italy didn't have any interested or appreciation of his work and in 1896 Guglielmo & his mother Annie moved to London, England. It was while in London, he gained the support of William Preece, who was the Chief Electrical Engineer of the British Post Office.
It was in 1897, he sent the world's first ever wireless communication over open sea. In 1898 a test for Lloyds of London between Ballycastle and Bathlin Island off the coast of County Antrim this was the world first commercial wireless telegraph transmission. Also in 1897 Guglielmo filed the world's first patent application for a system of wireless telegraphs under the title "Improvement in transmitting Electrical Impulses and Signals and in Apparatus Therefore" They complete specification was submitted in 1897, and it was accepted three months later. July 1897 was patent was transferred to the newly established The Wireless Telegraphy and Signal Company, later to be renamed Marconi's Wireless Telegraph Company. Guglielmo was appointed the technical director and together with his cousin Jameson Davis he secured control of the majority of the shares of the company. Seven of the new partners of the Company were Irish Corn Merchants. This confirmed the importance of the inventor's family contacts.
In order to compete with the transatlantic telegraph cables, he set up a total of eight wireless transmitting stations in Ireland; in 1901 was Marconi House in Rosslare Strand. This location was to act as a link between his stations in Cormwall and Clifden. The world's first radio message to cross the Atlantic was sent from Cornwall via Rosslare and Clifden and received in Nova Scotia, Canada on 12th December 1901. In 1907 a regular transatlantic radio-telegraph service between Clifden and Nova Scotia. The opening of the Clifden station in October 1907 and 1909 at the age thirty five Guglielmo was awarded The Nobel Prize for Physics. In 1919 was important year when he told the world about the first Atlantic flight with Alcock and Brown which landed in same location in Clifden.
Guglielmo Marconi married Beatrice O'Beatrice O'Brien, she was daughter of Lord Inchiquin of Dromoland Castle, Co. Clare. They married in 1095 in London and honeymooned in Dromoland Co. Clare. The marriage to Beatrice lasted 19 years, and later married Maria Cristina Bezzi-Scali in 1927. Guglielmo had been brought up as a member of the Anglican Church but became Catholic faith before marrying Maria. Guglielmo asked the Fascist dictator Benito Mussolini to be his Best man, and later Marconi joined Italian Fascist party in 1923.
Guglielmo died in Rome in 1937 aged 63.
Why not join us on our Walking tour of the Marconi wireless site in Clifden to hear more stories. Find out more by contacting us here
https://colleenirishtravel.com/wp-content/uploads/2022/04/Guglielmo_Marconi_1901_wireless_signal-300x189-1.png
400
600
Admin
https://colleenirishtravel.com//wp-content/uploads/2021/05/logo-1-1.jpg
Admin
2022-02-27 17:28:24
2022-04-13 16:28:10
Marconi Wireless Station Clifden