St Brigid – lesser known saint
St Brigid – lesser known saint
Ireland's second most interesting Saint is Brigid. February 1st is the Brigid's feast day. February 1st is traditional the beginning of spring, originally celebrated as the a pagan festival called Imbolc, marking the midpoint between the winter equinox and spring solstice, when the longer and warmer days came. Brigid would symbolically be welcomed in Irish homes on the February 1st with a offering of food and drink.
St Brigid, name as Celtic goddess translates as "Fiery Arrow".  Miracles associated with her are healing, fertility, poetry and learning.
St Brigid was born in Dundalk in 451 & died in 525. Her mother was a Christian slave who had been baptised by St. Patrick and her father Dubhthach was one of the head of Tuatha de Danann.
Brigid was known for her generous nature and was freed from her life of slavery after her father was tired of her donating his possession to the poor and needy. Her father Dubhthach brought Brigid to the King of Leinster, intending to sell her. While her father was speaking to the king, Brigid gave away his jewelled sword to a leper, of course this act enraging her father, however prompting the King of Leinster a Christian to see the holiness in Brigid. The King advised and declared that her father should leave her alone, as her merit before God is greater than ours, releasing Brigid to follow her faith
Brigid the patron saint of ……….
Brigid is the patron saint of poets and she is also the patron saint of midwives, blacksmiths, boatmen, sailors, Irish nuns, cattle, newborns, students, brewers and I have no doubt many more.
Brigid, along with Columcille and Patrick, is one of the three patron saints of Ireland.
---
Brigid the Brewer
A well told legend says Brigid would turn her bathwater into beer for the visiting clerics, which of course would made her even more popular, as with all good legends there is a strong suggestion that this was the Irish version of the water into wine story from the Bible … maybe a marketing plan by the early Christian to make the their religion extra tempting.
Her likeness for beer is commemorated in this 10th Century poem
I'd like to give a lake of beer to God.
I'd love the heavenly
Host to be tippling there
For all eternity.
I'd love the men of Heaven to live with me,
To dance and sing.
If they wanted, I'd put at their disposal
Vats of suffering.
White cups of love I'd give them
With a heart and a half;
Sweet pitchers of mercy I'd offer
To every man.
I'd make Heaven a cheerful spot
because the happy heart is true.
I'd make the men contented for their own sake.
I'd like Jesus to love me too.
I'd like the people of heaven to gather
From all the parishes around.
I'd give a special welcome to the women,
The three Marys of great renown.
I'd sit with the men, the women and God
There by the lake of beer.
We'd be drinking good health forever
And every drop would be a prayer
---
Different ways to spell Brigid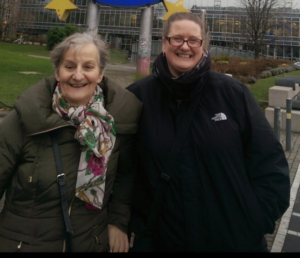 The spelling of Brigid can be confusing, my mum spells her name Brigid, yet other ways are Bríg, Brighid, Brigit and Bríde. Our St Brigid name was familiar only to those spoke irish, the English speaking world knew virtually nothing of her.
When there was any mention of St Brigid amongst the non-Irish it was common to confuse her with the St Bridget of Sweden who died in 1373.
This often happened when people in Ireland where seeking holy pictures of St Brigid, the supplied images from Germany with images of the Scandinavian saint.
---
The Tradition of the St Brigid's Cross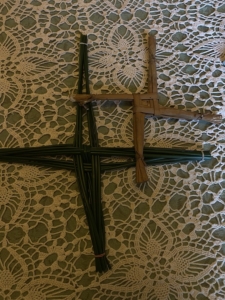 It is a traditional to make St. Brigid crosses out of rushes, a belief that these crosses would protect thatched homes from fire. We know Brigid was well known for healing powers and her generosity to the poor.
One of our favourite stories is of her visit to a dying pagan chieftain. While she prayed with him, she picked up some rushes from the ground and plaited them into a cross.
She told him the story of the cross as a Christian symbol, and he was converted and baptised before he passed away. It was believed that if you gave a present of a St Brigid cross to newly married couple it was said to bless them with a family. Here is a short video on how to make one.
---
The Brídeog Doll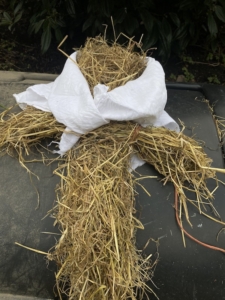 Traditionally associated with St Brigid is the Brídeog Doll, and is very strong on the Aran Islands part of the Wild Atlantic Way where some of our tours visit. This doll is traditionally make our and straw and dressed in white.
On the Eve of St Brigid Feast Day, young girls carry the Brídeog from house to house to allow St Brigid visit, families and say a special prayer.
The house would welcome St Brigid in and each member is handed the Brideog in turn to bless themselves with her. A member of the house then pulls a little straw out of the doll to make their own St Brigid Crosses.
https://colleenirishtravel.com/wp-content/uploads/2022/02/StBrigid.png
600
900
Admin
https://colleenirishtravel.com//wp-content/uploads/2021/05/logo-1-1.jpg
Admin
2022-02-06 17:44:36
2022-02-06 18:58:49
St Brigid – lesser known saint